THE GUIDE TO "HOW WIDE?"
You don't need to overthink brush width: it just depends on the size of your project. For something smaller and more detailed, a 1"–1.5" brush gives you more control.
For something like trim or cutting in, a brush in the 2"–2.5" range is a good choice.
Finally, brushes 3" and larger are mostly used for wide, flat surfaces like wide siding, fencing, or paneling.
ANGLED VS. FLAT
The shape of your brush might not seem like a big deal, but it can make your life so much easier. For most interior projects, an angled brush is perfect for detailed work that rollers can't manage, like trim and cutting in. If you're painting a wide, flat surface, that's when you'll want a flat-tipped brush.
GET A HANDLE ON HANDLES
Like a brush's width, the type of handle you'll want depends on the size of your project. For more detailed work, a shorter handle provides you with more control. Consider one with a rubber handle for an ergonomic grip that helps you paint small areas and tight spaces. Meanwhile, for larger projects, a longer handle can be more comfortable to use.
A BRUSH FOR EVERY FINISH
Some brushes and coatings are practically made for each other. When you use the right one, you'll get a smoother finish, cleaner edges, and better results overall.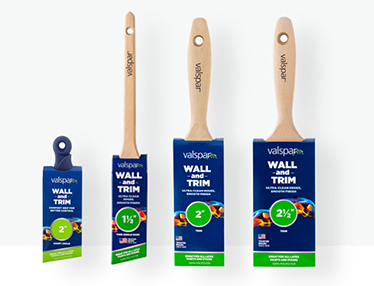 FOR LATEX PAINTS & STAINS
Valspar® Wall and Trim brushes give you ultra-clean edges and smooth finishes, making them ideal for almost any interior painting project.
Browse Wall & Trim Brushes
FOR OIL-BASED STAINS & COATINGS
Our China bristle blend in Valspar® All Stain brushes work stain deeper into surfaces, and provide a smooth finish.
Browse Stain Brushes
FOR ALL PAINTS & STAINS
Valspar® Precision & Control brushes consist of an extra stiff blend of polyester and nylon for increased durability and performance, making them ideal for any interior or exterior projects.
Browse Precision & Control Brushes
READY TO ROLL?
Brushes are great for the details, but a roller is the key to making your life easier when painting large areas. Check out your options, so you can find the one that's right for you.