FOR SURFACES SMOOTH AS CAN BE
On smooth surfaces, you want a shorter nap length that'll cover things evenly and easily. A ⅜" nap will do the trick, getting you a smooth, shed-resistant finish. If you're using a premium paint like Valspar Reserve®, a microfiber cover is your best bet. Otherwise, knit and woven covers are available.
If you're working with ultra-smooth surfaces, like cabinets, doors, or metal, an even shorter nap – like ¼" – is a good idea. It'll help you get the smoothest results possible.
ADDING SOME INTERIOR TEXTURE
To get into every last inch of a textured surface, a longer nap can help. We recommend using a ½" nap in either a knit or woven cover – it's perfect for the light textures of some walls and ceilings, concrete, and decks.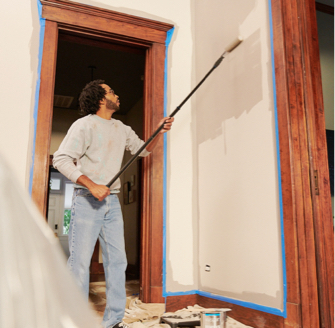 TACKLING EXTERIOR TEXTURES
For rough surfaces, bring out the tough stuff: a long, ¾" nap. That length of cover will do a great job of getting deep into the texture of surfaces like stucco, decks, and masonry with minimal effort.
THESE COVERS HAVE YOU COVERED
Valspar covers in a variety of fabrics and nap sizes to fit any type of painting project. Whether you have a super-smooth interior surface, or a rough exterior one, we've got covers that are bound to give you great results.
DON'T RUSH PAST BRUSHES
Rollers are great for covering a lot of ground quickly, but you'll need a brush, too. Check out our brush guide, so you'll know what your options are for your next project.